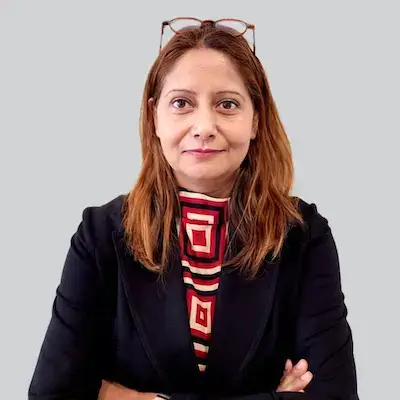 Sufia is a trained medical doctor and a globally recognized public health strategist with almost two decades of experience in policy, technical support, and research, focusing on maternal, newborn, and child health; immunization; nutrition; and food security. She believes in breaking silos to put the mother and child at the center of solutions.
Her work with organizations such as UNICEF, Children's Investment Fund Foundation (CIFF), and the Bill and Melinda Gates Foundation has given Sufia the opportunity to lead, design, and implement sustainable nutrition solutions in India, Bangladesh, Bhutan, Sierra Leone, Ethiopia, Kenya, Tanzania, Nigeria, Rwanda, Malawi, Australia and North Korea, among other countries. She is currently based in London.
Core functions: Policy, technical support, and research.
Core areas of interest: Maternal nutrition, newborn and child health, immunization, nutrition, and food security.
Core qualifications: Trained medical doctor from India; medical and healthcare management degree from India; Master's in Public Health from Australia; executive leadership degree from Oxford University.
Past organizations: CIFF, UNICEF, BMGF.
Past achievements: Led, designed, and implemented sustainable nutrition solutions, undertaken research, and published several scientific papers. Her past portfolio ranges from conducting evidence-generating randomized controlled trials to break the intergenerational cycle of malnutrition in Sierra Leone to scaling up impactful products through business models in Bangladesh, to working with one of the biggest farmers networks in African countries, to solving market-based solutions for new-born technologies in Africa.
Academic achievements: Sufia has achieved several gold medals for academic excellence during her medical training. She has published numerous scientific articles and other publications. She also assumes advisory functions on Maternal, Child Health and Nutrition related issues.